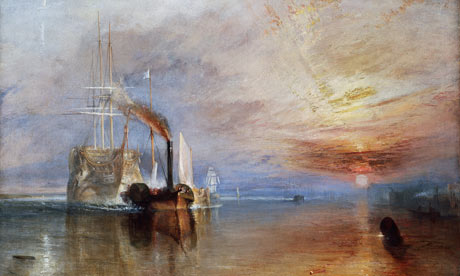 The BBC is to put every one of the 200,000 oil paintings in public ownership in the UK on the internet as well as opening up the Arts Council's vast film archive online as part of a range of initiatives that it has pledged will give it a "deeper commitment to arts and music".
Mark Thompson, the BBC director general, unveiled the ambitious plans today at a London event showcasing the corporation's music, arts and culture output for 2009 and beyond.
The move may help the BBC get back on the front foot after almost a week of negative headlines over its refusal to broadcast the Gaza humanitarian aid appeal.
A partnership with the Public Catalogue Foundation charity will see all the UK's publicly owned oil paintings – 80% of which are not on public display – placed on the internet by 2012.
The BBC said it wanted to establish a new section of its bbc.co.uk website, called Your Paintings, where users could view and find information on the UK's national collection.
The Public Catalogue Foundation, launched in 2003, is 30% of the way through cataloguing the UK's collection of oil paintings.
In addition the BBC said it was talking to the Arts Council about giving the public free online access to its archive for the first time, including its wide-ranging film collection dating back to the 1950s.
Thompson today also unveiled plans for new BBC content including a pan-corporation poetry season – one of the highlights of an overarching language theme for 2009.
In other partnerships, Radio 4 is working with the British Museum on a complementary online project for its 100-part series, A History of the World in 100 Objects, which will tell the history of the world through objects from the museum's collection.
It will be narrated by the museum's director, Neil MacGregor.
Due for transmission in February next year, the objects will be displayed in the galleries of the British Museum as the series airs. The online partnership will enable viewers to explore the objects online after watching the programmes.
The BBC is also shaking up its music, arts and culture coverage, with a new arts editor to be appointed by BBC News to "help ensure that appropriate focus is given to arts events and stories on a day-to-day basis", while a BBC arts board will be set up to promote content ideas and partnerships.
This pan-BBC arts board, which will be sponsored by the director of vision, Jana Bennett, and director of audio and music, Tim Davie, will consist of senior arts and creative leaders and be managed by a new co-ordinator in an attempt to "join up and maximise" programming through "better planning, creativity and collaboration".
The BBC said it would increase the "reach and range" of its arts, music and culture output, with the poetry season airing across BBC2, BBC4, CBeebies, Radio 4 and online from the spring.
Other new shows will include an authored documentary from Simon Schama on John Donne and a film by Armando Iannucci on Milton. New series Lifelines will see four public figures "take a journey of discovery into the poems that inspired them", while arts documentary strand Arena will screen a programme on TS Eliot. A nationwide poetry recital competition will be held for primary schools, to be called Off By Heart.
On digital arts and culture channel BBC4, Owen Sheers will explore six feted British works: Ian Hislop will welcome the new poet laureate; Simon Armitage will go in search of Sir Gawain and the Green Knight; and a documentary will celebrate Radio 4's Poetry Please, the world's longest-running poetry programme.
Later this year, the 200th anniversary of the birth of Alfred Tennyson will be marked with a Radio 3 adaptation of his epic The Idylls of The King by award-winning poet Michael Symmonds Roberts, while contemporary poets will offer their personal responses to his work in The Essay. Poet Ruth Padel will also investigate Tennyson's legacy in art, film and music of all kinds.
Maud, Tennyson's poem of love and madness, will be broadcast as a serial on Radio 4, while the station will also air Ulysses Revisited, a documentary telling the story behind the poem.
A literacy season on BBC4, called Why Reading Matters, will include Just Read, in which children's laureate Michael Rosen tries to instil a passion for books into reluctant young readers.
Radio 4 will bring listeners The Complete George Smiley, a dramatisation of John Le Carré's series of spy novels, while BBC2 will launch The Romeo Project, which will see two schools brought together to perform Romeo and Juliet in a prestigious theatre.
A search for Britain's best young orator, The Speaker, will air on BBC2, while BBC creative director and Imagine presenter Alan Yentob will explore the art of public speaking from Aristotle to Barack Obama.
"The BBC has a special responsibility to support and enable the cultural life of Britain, particularly through our investment in arts and music programming," Thompson said.
"Today we are not only reaffirming our commitment to arts, but we're announcing a series of measures that will put this relationship on an even stronger footing. Through innovative new partnerships, I believe the BBC can deliver big, bold arts programming that is accessible, distinctive and enjoyable."